"Under-Participation" and Ethnocentrism in Environmental Education Research: Developing "Culturally Sensitive Research Approaches"
Abstract
Racial and cultural diversity issues have been a source of some interest amongst outdoor and environmental educators. Early research was framed in terms of the "under-participation" of people of colour, which led to the development of ethnocentric and methodologically problematical "marginality" and "ethnicity" theories. There is, however, a growing body of research, educational and otherwise, which focuses on people of colour, and which privileges culture as being central to the research process. Iargue that there are currently (at least) three interrelated "culturally sensitive research approaches" in use to differing extents in environmental education in its widest sense:"ethnic modeling in qualitative research;" "culturing" environmental education; and community based participatory research. I conclude by making a plea for "culturallysensitive research approaches" to become inherent in all environmental education research.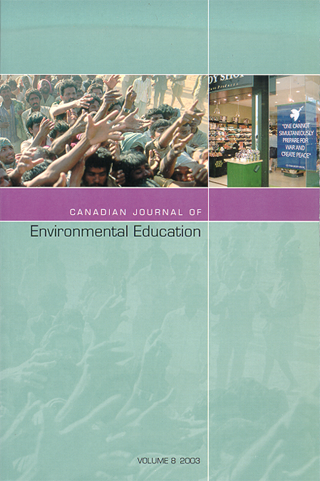 Downloads
License
The Canadian Journal of Environmental Education retains the copyright for published articles. Please contact the editors to request an alternate arrangement.